Hello from Maine USA -

This story really starts a long time ago...
That's a middle east market Honda Dio that I bought for $300. I was never allowed to take it off the base camp but that scooter was freedom to me anyway, which is something people still die for believe it or not.
Obviously low ranking folks motoring around camp strapped with M16s and wearing their PT uniforms was not to last long and private vehicle ownership was banned after a couple months.
I was going to ship or smuggle the scooter home but it cost $600. or I could stick it in a container and hope I didn't end up in Leavenworth or delay my whole unit's homecoming. Left the scooter in Iraq.
I wanted to buy another Dio just like it when I came home. Not a Zuma, or an SR50. Not an R6 or cruiser. A Dio.
Not happening in Maine. So I shopped around - had to have a 2t scooter as similar to a Dio as I could find. I almost bought a 100cc Triton reg'd as a 50 then I found the F10 on ebay.
I had no idea that I couldn't buy another Dio here, I kind of assumed I could get something better even when I left it. One can't just walk into a dealer and buy a Dio, an F12r or an Aerox in the U.S. - Thus I am an F10 pilot.
I think Malaguti kills the F10 on their website by saying its good for girls because the seat is low. Both are mostly true, it's also very light, narrow, and short. Think the frontal cross section of a Ruckus but with a much more aero shape.
Here's the photos from the auction when I bought it.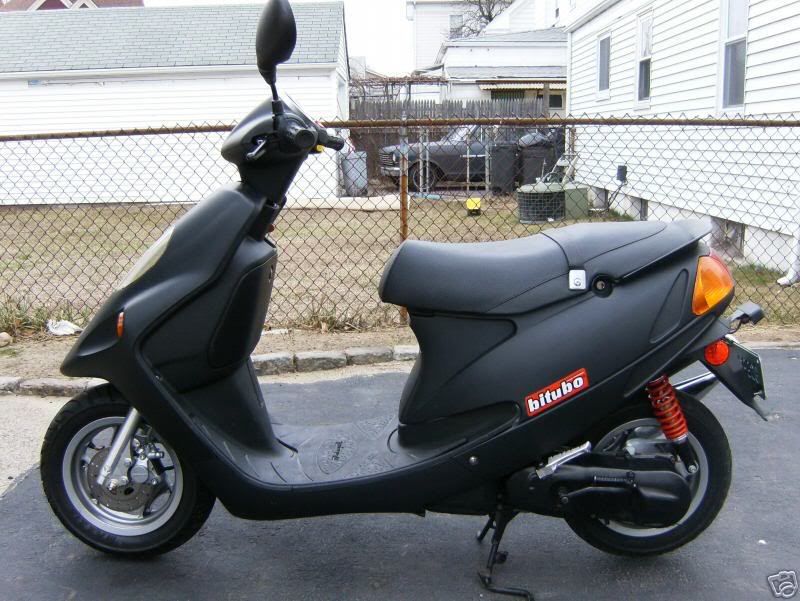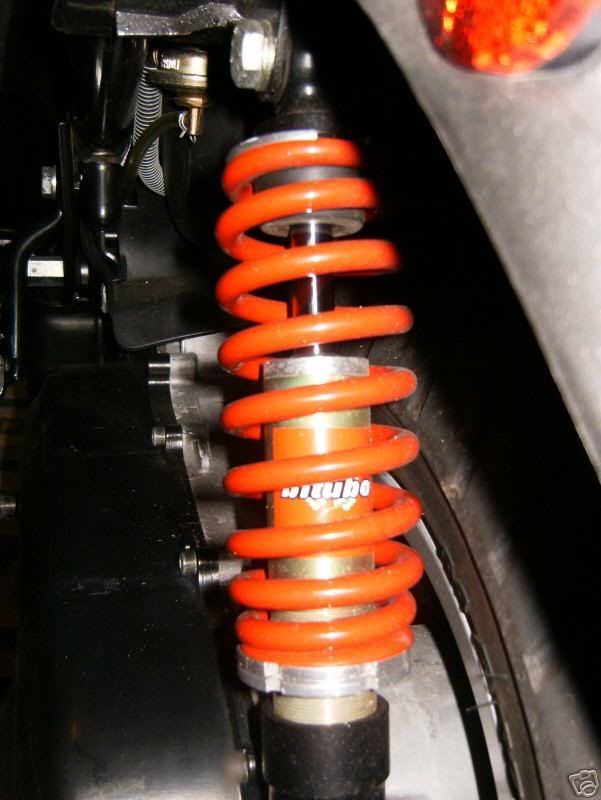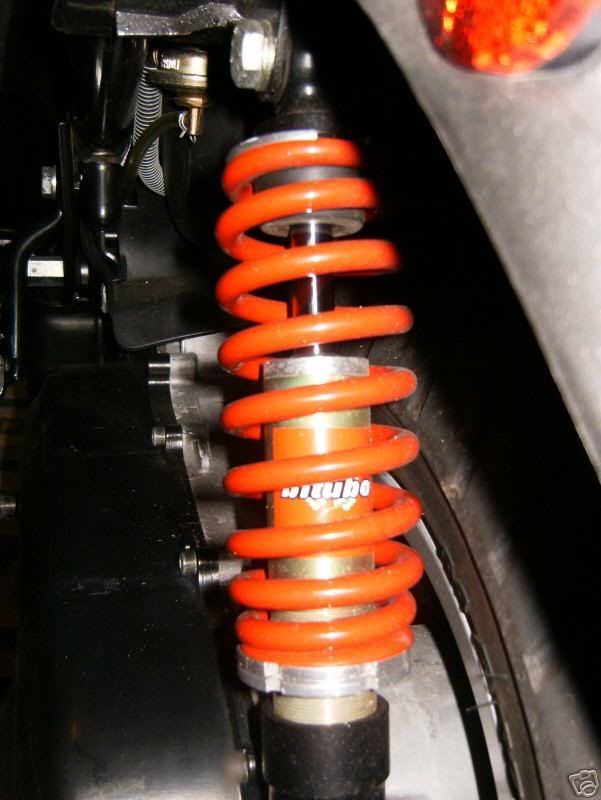 It had a ported charmo 70cc, 17.5 dellorto, Technigas RS pipe, bitubo shock, and a turbokit variator << (junk) all which were already installed when I bought it. I think they guy I bought it from was a cop or prison guard- had a cop plate maybe he got it at a police auction?
I installed a cup holder for my coffee, chopped the rear fender, and created some graphics for a race scooter look.
The graphics were mostly an experiment in vinyl production so I will use the same technique to do a dragon or ninja graphics theme when I get around to it. (This did not work and I'm now digging the stealthy flat black)
My plan was to enjoy as is for the summer, hopefully get the tranny tuned in and do some engine mods over the long Maine winter.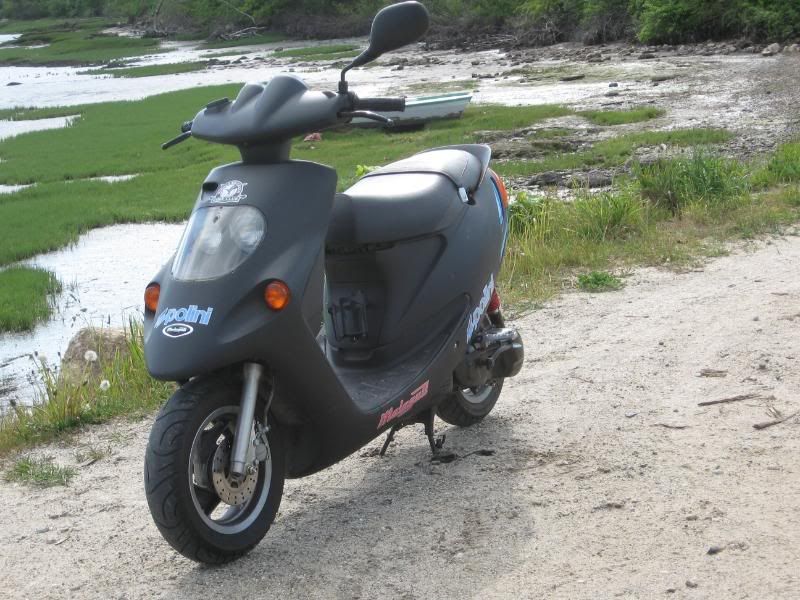 Added 3/10 - The crappy decals I made were kind of a joke anyway and didn't last long. Otherwise I rode the wheels off it for a couple summers and didn't have much cash for upgrades because of life going on off the scooter. (life and death actually- don't ask. sucked.)
So...Update. Got a little drag race challenge and the char-mo was set up a little screwy, few bucks to work with so got some parts.
Needs a washing for sure. Should probably save the scootercrossing for when I buy a ruckus. (that's prob. what broke my fuel sender: see below)
As you can see I don't have any special tools or anything. Outside of the pressed in bearings I could pretty much strip the whole bike with my carrying tool kit. Allens, multi screwdriver, 3 wrenches. (actually 4 and some other items)
Nothing to get too excited about but building up with inexpensive parts that any monkey can get decent performance out of.
I'll try to add some better pictures once I can give it a wash and install my next round of parts. Maybe some video if I can figure out a way to mount my phone.
Getting a little faster as I can afford better pieces and learning more as I make mistakes with things so getting more and more speed out of what I have.
So far -
02 Malaguti F10 - $950. drove 300 miles to pickup
Technigas RS - included
Dellorto 17.5 -included
Malossi Delta -included
Bitubo Shock -included
Motoforce Crank - $150
SKF Bearings - $40.
Athena Vario - $60.
Stage6 Pro AC - $150.
Malossi Air Element- $10.
Gates Prem Belt -$40.
Stage6 Temp/Tach -$120.
Misc. Jets,rollers,springs,etc. -$100.
Just for comparison - that Dio was pretty tired so I'm sure it needed EVERYTHING. The Malaguti is much nicer no doubt and tough to beat bang for buck wise. I'm going to have another Dio someday, but I'll ride this one until then. Dio means freedom in Arabic.
A few more pieces have arrived from Germany. The exchange rate rocks right now (maybe because of Greece) - I might order a pipe from over there soon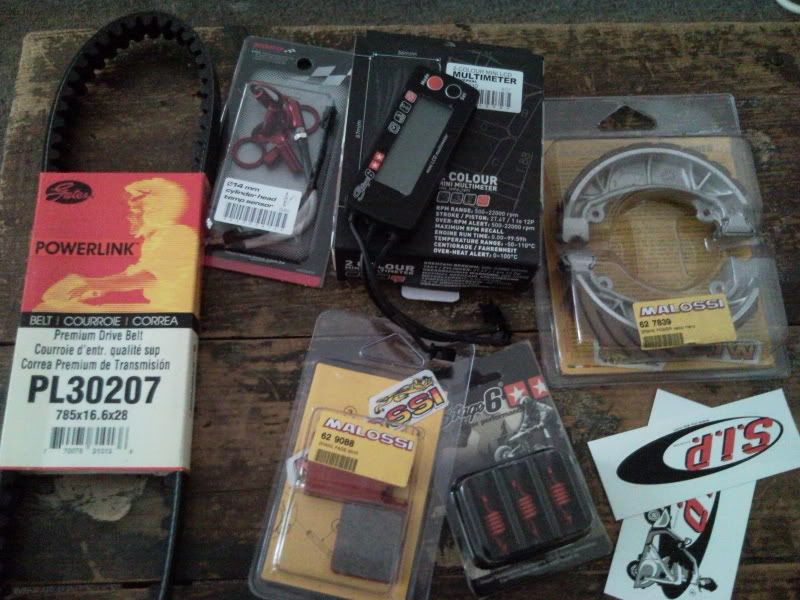 Not sure how I will work out the temp sending. I have the AC adapter but the gauge only reads to 230f. Not sure how I'm going to address this.
Also my fuel gauge has been hosed for awhile so I got out the tester and tracked it down to a tiny wire inside the sending unit. You can see where it broke from the soldered point and was now too short to reattach.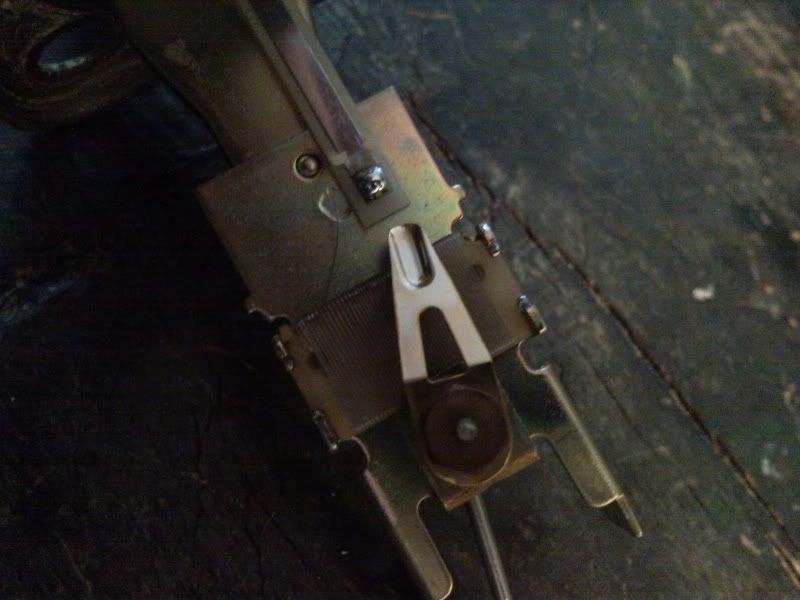 So rather than trying to cross reference jog/vino fuel tank senders or ordering an OEM one from Italy I soldered in this terminal to reach the wire.
No commentary on my ghetto soldering please - I'm aware of the weakness of my kung-fu.
The important part is that it works perfectly now. I'm not even going to issue a warning for others who might be too cheap to buy a new sender about putting out cigarettes before pulling the sender out or letting the gas dry off before hitting it with the soldering iron.
Hopefully there won't be any funny reactions with the gas and rosin from the solder or anything and the wire will hold up awhile.
Went out looking for America today, and testing the reliability of my new items. Got the scooter washed by some kids at the 7-11, not the best washing for $10 donation but kids gotta go to camp.
All steak burgers, hand cut crinkle fries, ice cream, mini golf, and Malaguti. Was a pretty good day. About 75 miles in great weather.
Alas all good ideas aren't good. My Technigas was bent and or doesn't fit the Malaguti quite right. It had taken a beating from the PO when he bottomed it hard with his wife on the back. Had a big flat spot on the bottom and numerous dents I added off roading like an idiot.
Anywho...yes it's still bolted at the flange and yes also dragging on the ground. I wanted a pipe with a separate flange and now my RS has one.
No fault of Technigas at all. I was actually pretty happy with the pipe despite its dents it would pull over 11000rpm - It didn't fit right so I made spacers to fit it which came loose, bolts fell out, I was going 50mph and didn't notice until it got loud and the pipe hit the tarmac.
New pipe is on the way - I'll post an update in 4 days when it's supposed to arrive.